About Samyang XP 50mm f/1.2 Lens
Also known as the Rokinon SP 50mm. This is the newest addition to the premium XP line of lenses after the XP 14mm f/2.4 and the XP 85mm f/1.2. The XP or "Xpert" line is intended for high-end professional photographers and offers an alternative third-party choice to rival that of Tamron or Sigma. It's optimized for portraits and captures a delicate range and depth. It will be released in the US in April 2018 while it's already available in Asia as of March. The price range is between $999-1170. The lens is adjusted only by the camera body and has a built-in chip to confirm the focus and EXIF before sharpening onto whichever aperture is chosen. While this isn't traditional autofocus, it's a hybrid that doesn't require the additional motor weight (a good thing considering the already hefty size).
Features – Samyang XP 50mm f/1.2
Full frame/35mm
50mm focal length prime
f/1.2-f/16 aperture range
11 elements divided into eight groups
Aspherical and refractive elements
Aluminum-alloy housing
Rear contacts for relaying Exit data and control settings in-body
Canon EF mount
What's New
Capable of shooting 8k video and up to 50 MPX photos
Ultra Multi Coating to prevent ghosting and flare.
Compatibility with EF Cinema and EF lances
The super wide f/1.2 over the more common f/1.4 aperture
In-camera aperture adjustment
Who Should Buy
The Samyang XP 50mm f/1.2 is designed for professional photographers who want to capture a small depth of field with a nice bokeh blur. The lens is also capable of capturing starbursts and out of focus effects with a rounded shape thanks to the 9 blades. It's intended for portrait photographers and professional videographers looking for a prime lens that can be used within a close range. It's also ideal for low light imagery thanks to the wide f/1.2 aperture. It's only being released for the Canon EF mount at the moment, but it may be released for other mounts later. This is designed for people who want a really low aperture and want to be able to say they have it over the actual functionality of the lens, especially when comparing it to the similar Sigma Art model. This is also a manual lens, so it's only good for photographers who are comfortable shooting in manual or who have a Canon body which has a built-in motor to focus the lens.
How to Use – Get, Set, and Click
1

Line up the white dot on the lens with the white dot on your camera body and fit it in

2

Rotate the lens until it clicks into place.




3

Adjust the settings in camera as desired.




4

Focus the lens. You may need to do this manually depending on your body as this does not have autofocus.

5

Press the shutter button.
Must-Have Accessories -
Samyang XP 50mm f/1.2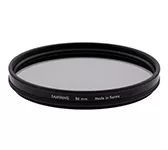 86mm Circular Polarizer Glass Filter
The circular polarizing glass filter
86mm threads
Used for making skies bluer and reducing glare
Mostly used by landscape and product photographers
$6-200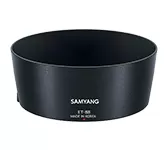 Lens Hood ET-88
Single depth Lens hood
86mm thread
Used to avoid sun glare, bright light glare, and flares
Used by outdoor photographers for landscape and portraits facing bright light.
$40-90

Lens Hood ET-86
Tulip style Lens hood
86mm thread
Used to avoid sun glare, bright light glare, and flares
Used by outdoor photographers for portraits and landscapes
$50-90
Similar Products to Watch Out For

Final Thoughts

Score
4.4
Samyang XP 50mm f/1.2