About Fujifilm X-H1
Smart Photo Editors is a leading photo editing service provider and this technical review of Fujifilm X-H1 intend to assist professional photographers in buying decision. Incorporating Fujifilm's proprietary color reproduction technology, this is a newly designed model for the X series. It's the little sibling from the X-T2 which features the same sensor and autofocus but no longer has the lead in features like the electronic viewfinder or video. The H1 features many different tools, but the most standout is the latest version of their 5-axis in-body stabilization that can adjust up to 5.5 stops. The camera is also designed to work with the range of lenses that Fujifilm will be bringing out for release in May for the X mount. The combinations are designed for landscape photographers and sports photography especially. As one of the latest cameras in mirrorless technology, Fujifilm is already ahead of camera giant Nikon whose release of the D850 last year rather than going mirrorless has hurt them in this race.
Features – Fujifilm X-H1
Compact, durable, and self-contained DCI 4K video recording at UHD 4096x2160 up to 200Mb/s
24.3MP APS-C X-Trans CMOS III with randomized pixel array
With dual battery grip has a life of 900 shots or 310 normally
Bluetooth, Wireless
Ultrasonic Vibration sensor cleaning
Fujifilm X Mount
Wide eyecup and headphone socket
Fully featured up to 14.0 fps full frame DSLR camera
Dust, Scratch and Water Resistant to an operating temperature down to -10°C
What's New
5.5 stops of in-body image stabilization
Flicker Reduction Mode for indoor photography and burst mode
Hybrid 91/325 Point Autofocus system
19 operating modifications for easier use including a larger grip, quieter shutter, and an AF-ON button
ETERNA Cinematic Film simulation mode for movies
25% thicker Magnesium Alloy Body
Who Should Buy
If you've been thinking of going mirrorless, but you're not ready for the cost of a Sony, then the Fuji offers a viable and comparatively slightly cheaper alternative. Mirrorless technology is expensive across the board, but this is still about the same price of full-frame DSLR yet it's much lighter and quicker. Based on Smart Photo Editors's technical review of Fujifilm X-H1, this is ideal for someone who maybe doesn't mind that they're not getting the slew of accessories Sony offers, but they're tired of lugging about a heavy DSLR. The fast sensor and various help modes mean it's ideal for the semi-pro and professional photographers who might not need the highest quality for their projects but still want good images. Fujifilm X-H1 is also for those who want the flexibility of in-built video recording options. The super quiet shutter is also ideal for those who want to take images without disturbing their surroundings, like nature photographers.
How to Use – Get, Set, and Click
1

Set the Mode dial to A (aperture-priority auto exposure).

2

Rotate the Sub-command dial to set the desired f-stop.

3

Set the Release mode to S (single frame).

4

To add flash, press the Flash button to raise the built-in flash.

5

Set the lens and camera to autofocus mode.

6

Set the Focus mode to AF-S and set the AF-area mode to Single Point.

7

Press and hold the shutter button halfway down.

8

Press the shutter button down the rest of the way to take the shot.
Must-Have Accessories -
Fujifilm X-H1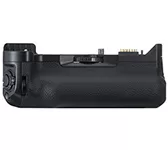 VPB-XH1
Vertical Battery Grip.
The high-performance grip which extends battery life three times that of the single battery alone.
Dust Resistant and Water Resistant, perfect for outdoor photographers with improved burst mode and less shutter lag
A built-in headphone socket allows for live sound monitoring and battery recharging capability without removing the grip.
Priced at around $329.99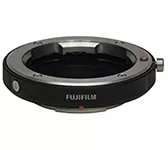 M Mount Adapter
M Mount lens adapter
Includes a resin gauge to check compatibility with any lens as not all will be suitable for mirrorless use.
For those who already own Fujifilm products and want to be able to use their M mount lenses on the mirrorless body without damaging it
Priced at around $199.00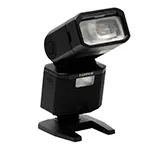 EF-X500 Shoe Mount Flash
A hot-shoe flash is practically essential, especially if shooting indoors.
Maximum guide number 50/164 including FP HSS mode
Used for controlling bokeh at maximum aperture and adding light to difficult lighting situations.
Essential for low lighting situations since the X-H1 does NOT have a built-in pop-up flash.
Priced at around $389.00
Similar Products to Watch Out For

Final Thoughts

Score
4.5
Fujifilm X-H1