Breaking into the field of professional photography certainly comes with a long list of questions. How do I get started? What area should I go into? And of course: What camera should I buy? While a professional level camera won't get you professional photos without a professional-level photographer behind it, the camera is nonetheless an important purchase as a new professional.
But, the best camera depends largely on what you shoot. The best camera for portraits isn't necessarily the best camera for sports. While most DSLRs and pro-level mirrorless cameras are versatile enough to fit under multiple shooting scenarios, it's best to choose a camera based on what you shoot the most.
We've taken six popular photography fields, and highlighted the features to look for, along with the best cameras currently on the market hitting those high marks. Here are the best professional digital cameras for beginners.
Sports Photographers
Speed is the name of the game here, even if that means sacrificing a bit of resolution. In order to capture the action, sports photographers will need a camera that can keep up. That means a top-of-the-line burst speed, snappy autofocus and speed processing. Along with speed, professional sports shooters need a camera body that will accommodate a good sized telephoto lens to bring that action up close.
Speed usually comes at a higher cost, however. The best camera for new sports photographers in 2015 is the Canon EOS 7D Mark II; but if that gives you sticker shock, takes a look at our runner-ups too.
Canon EOS 7D Mark II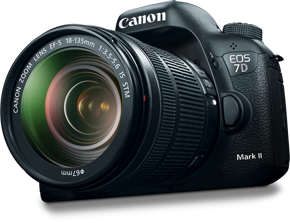 Every time a DSLR snaps a picture, that mirror inside has to flip up—so while it's easy to find a fast mirrorless camera, speed is a bit harder to come by in the DSLR category. While options like the Canon  1 DX offers 14 fps with full frame resolution, it also costs nearly $5,000—quite out of reach for most new professionals. While the Canon EOS 7D Mark II has the smaller but still excellent APS-C sensor, it hits a whopping 10 fps burst speed, much higher than any other DSLR at the same price point.
Along with that excellent burst rate, the 65-point autofocus system allows for more accurate tracking of moving subjects, which of course comes in handy shooting sports. The autofocus accuracy is also rated down to -3 EV, which means shooting in low lighting conditions isn't out of the question either.
And since the best sports pictures are often the ones shot in the worst weather, the Canon EOS 7D Mark II has a weather-sealed body to withstand rain and dust. Constructed from magnesium alloy, it should have the durability to go the distance on the sidelines too. The 7D Mark II is listed for $1,799.
Runner-ups
Do you really need 10 fps to shoot sports? No. Plenty of new and budget-minded photographers shoot sports at 5 fps. While the sacrifice in speed may mean not getting that perfect millisecond moment, there are still plenty of cameras with a less frightening price tag that will get the job done.
The Nikon D7200 excels in low light, with little noise. That means you can crank up the ISO in order to achieve that faster shutter speed necessary for sports. The 51 point autofocus comes in handy for action too, though if you can't stomach the $1,200, the Nikon D5500 will get the job done too.
If you don't need to print giant enlargements, take a look at the Nikon 1 J5. The sensor is a smaller 1" size, but that's plenty of resolution for taking sports pictures for an online publication. You'll get a 15 fps burst mode for as little as $500.
Wedding Photographers
Wedding photographers are trusted with capturing the memories from their client's biggest day—that's a pretty big responsibility that requires pretty good equipment. Churches are notorious for being dimly lit, so good low light handling is a must. The best cameras for wedding photography will also capture a wider dynamic range, to prevent loosing details of the big day in the shadows or highlights.
Wedding photography also usually requires all day shooting, so both size and battery life are important to consider as well. While not as fast as athletics, the camera should still have a sufficient burst mode to capture the right moment and the best expressions.
Nikon D750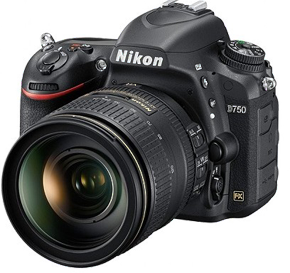 While the Nikon D750 sits between the D610 and the D810, it has some features that even surpass the pricier D810. It still has the optical low pass filter and has a few less megapixels, but it also adds a tilting LCD screen and an even better burst mode at 6.5 fps. The camera has received high rankings for both low light and dynamic range.
All those features are packed into a relatively small body, considering the full frame sensor anyways. It weighs a full half pound less than the D810, and still a bit less than the cheaper D610 too. The D750 has a superb battery life rated at 1,230 shots, so there's little chance of needing to swap batteries mid-ceremony (though an extra is always good to have just in case).
Runner-ups 
The Canon EOS 5DS may not have a tilting LCD screen or a 1200 shot battery life, but it does have some pretty big resolution with a 50 fps full frame sensor. The burst mode is a bit slower and the battery life is just 700 shots, but that high resolution still makes it a worthy candidate.
Do you have to have a full frame camera to shoot weddings? Not really, especially just starting out. There's nothing wrong with getting started with a Nikon D7200 or Canon EOS 7D Mark II or even the Olympus OMD E-M5 Mark II if there's no room for full frame in your budget, but beware if you upgrade to full frame in the future, your lenses will need to upgraded to match the full frame format as well. 
Portrait Photographers
A camera that takes beautiful portraits will have an accurate autofocus, with the ability to get the eyes sharp. The best camera for portraits will have excellent sharpness and detail, along with a solid reproduction of color. Low light performance is an extra perk, but usually not a necessity since portrait photographers often shoot with studio lights or outdoors.
Speed is also an unexpected perk for portrait photography. Taking portraits of toddlers that won't sit still becomes a bit closer to sports photography. Even when photographing someone that's sitting still, using the burst mode during conversation will help capture a laugh or a genuine smile.
While a top-of-the-line full frame camera will do well with portraits, it's not necessary. If you're just starting out, don't spend $6,000 on a portrait camera before you know how well your portrait studio will do.
Nikon D7200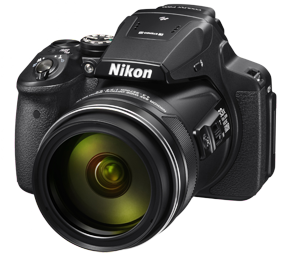 Perhaps you've noticed the Nikon D7200 is listed several times under runner-ups—that's for good reason. It's the best camera Nikon has without getting into the more expensive full frame cameras, and offers a few more features than Canon's top APS-C camera (with the exception of the speedy, more expensive 7D II). While the Canon EOS T6s is a bit more affordable, the D7200 offers more autofocus points, helpful for using the single point autofocus to get the subject's eyes sharp. The D7200 also has a better maximum shutter speed, faster burst mode, doesn't use a optical low pass filter, and has a much longer battery life.
The Nikon D7200 also performs well at high ISOs and handles colors well. The range of physical controls also makes it easy to adjust settings without taking your eye from the viewfinder.
Runner-ups 
While the Nikon D7200 has the most autofocus points and the most features, the other entry-level models are fine for getting your feet off the ground too. The D3300 is pretty basic, but the D5300 sits in between the two feature-wise.
If your brand loyalty leans more towards Canon, the EOS T6s is still a solid option for portraits, and has the advantage of coming in at a bit lower price point.
With the same sensor and processor as the flagship X-T1, images from the Fujifilm X-T10 will be right on par, though a few usability features are sacrificed, making it about $400 less. Fujifilm's X-Trans sensor designs produce a great level of detail and have excellent color, making them great for portraits. 
Landscape & Travel Photographers 
When capturing beautiful vistas, both resolution and camera size plays a big role. Landscape and travel images are often reprinted in large formats, so while shooting full frame isn't necessary, it's a boost for those big prints.
But size is important too—landscape photographers must often fit their gear into a airplane's overhead compartment, then hike with their gear, sometimes for several miles. Heavy cameras are that much harder to both hike and travel with, so size should be a big consideration for landscape and travel photographers.
Sony a7R II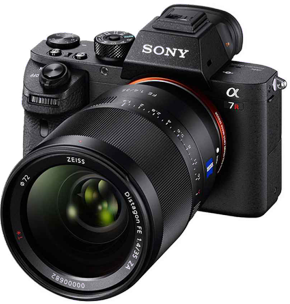 The Sony a7R II packs a full frame sensor inside a relatively small mirrorless body, considering what's inside. The 42.2 megapixel sensor is backlit, so even nighttime landscapes shouldn't be a problem. That big sensor will capture landscapes with a high resolution, while the size makes it a bit easier to travel with compared to a full frame DSLR.
Five axis image stabilization is included as well, to help steady any handheld shots. With a 399 point phase detection autofocus and focus peaking, it's easy for landscape photographers to choose a focal point, or opt for manual focus. All of its features are wrapped up in a sturdy magnesium alloy body.
While the a7R II has it's quirks, they're on specs that don't impact landscape photographers much. The autofocus is known to be slightly behind other models, and the burst speed is just 5 fps. Pick up an extra battery or two though, the Sony a7R II is rated at 300 shots per charge.
Runner-ups
The Canon EOS 5DSR may not have the Sony's small size, but it packs in a whopping 50 megapixels. The camera is a good option for landscape photographers that can't decide between full frame and medium-format, as a high resolution full frame option that offers the best of both as well as sitting in the middle price-wise too.
Fujifilm's mirrorless cameras have excellent color reproduction and solid detail—and the Fujfilm X-T1 is their current flagship. While it doesn't have a full frame sensor, the APS-C sensor with the optical low pass filter removed is excellent for capturing detail. It's full of pretty much any feature you can imagine, like weather-sealing, focus peaking and five mechanical dials. The X-T10 will get similar image quality, albeit with fewer features, for around $400 less.
The Nikon D7200 offers a pretty good resolution and feature set without tipping the scales into the pricier (and heavier) full frame options. The 51-point autofocus system comes in handy for landscapes, and the removal of the optical low pass filter means enhanced detail and low noise. The Canon EOS 6s has a similar resolution and adds a tilting touchscreen, though only has a 19-point autofocus and still uses an optical low pass filter. 
Product photography and other still life 
When shooting products and other still subjects, there's no need for a snappy shutter speed, fast autofocus or speedy burst. If those product shots are going on billboards, a full frame camera is a good idea. But if you're shooting for online stores, you don't need that much resolution and can save some money by opting for one of our runner-up selections.
While product photographers don't need to prioritize speed, image sharpness should be top notch, as well as color reproduction. Low light performance is also helpful, though still life photographers are usually better off using a slow shutter speed with a tripod instead of cranking up the ISO.
Canon EOS 5DS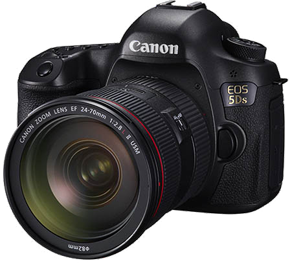 For commercial photographers needing a lot of resolution, the Canon EOS 5Ds has a whopping 50 megapixels on a full frame sensor, so images are big enough to use on billboards without spending a fortune on a medium format camera. We chose the 5DS here over the 5DS R, which is the same with the exception of the removal of the optical low pass filter. Products like clothing are more prone to moire, so the filter may be more more handy here than the bit of added detail.
The 5DS also has a 61-point autofocus and an ISO that reaches 12800. Dual SD card slots, a large LCD screen and 100 percent coverage viewfinder are added bonuses. The extra resolution comes at a big price, however, around $3,700.
Runner-ups
The Canon 5DS is overkill if you specialize in product photography for online stores. An APS-C sensor, or even Micro Four Thirds, will do just fine, since the file sizes are reduced for the web anyways. Here's a few more affordable suggestions.
The Pentax K-3 II includes what's called a Pixel Shift Resolution mode, which combines four images together for one high resolution photo. This mode has to be used with a tripod and a still subject, but it's perfect for product photography. Of course, the APS-C sensor will do just fine on it's own too, but it's nice to have that extra resolution when the situation calls for it. While a lesser known brand that's a bit quirky, Pentax cameras have solid image quality, with good color and detail.
For online stores, smaller DSLRs will get the job done without such a big price tag. Image resolution is reduced when used online, so full frame is overkill. The Nikon D5500 is a good option, as well as the Canon T6s. Sure, more expensive options will get you a few more features, but online viewers won't likely notice a difference. 
Photojournalists
Like other sub-fields, the level of camera you need as a photojournalist depends largely on who you are working for. You'll likely want a full frame kit for a big publication, but there's also nothing wrong with using a basic DSLR for a small newspaper either.
The best cameras for photojournalists contain a mix of all the features. In a word, the camera should be versatile. For photojournalism, look for a camera with decent speed. Since journalists shoot in a range of conditions, low light performance is a must. Of course, sharpness and color reproduction are good factors to consider as well.
Canon EOS 7D Mark II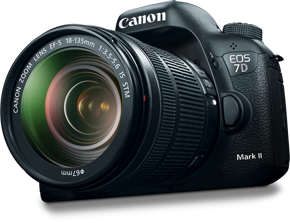 The same 10 fps speed that comes in handy shooting sports is a good asset for photojournalists capturing the news as well—which is why this speedy camera makes our list twice. While the Canon EOS 7D Mark II is a bit pricey compared to other APS-C cameras, it's also one of the most versatile. Along with that snappy burst speed, the autofocus also performs down to -3 EV, so the camera also handles low light shots well too. The 65-point autofocus allows for a range of possibilities, and does well with subject tracking.
But the news doesn't stop with a little rain, either. The sealed body will keep out rain, as well as dust (because, hey, news happens on the beach too right?). The magnesium alloy build is tough enough to travel wherever the news takes you.
Runner-ups
While the 7D Mark II has some nice speed, it comes at a high price point that's hard for many new professionals to reach.
The Nikon D7200 is a few hundred dollars less, but still rather versatile. While not as fast, it hits up to 6 fps and has excellent low light performance. Or, the Nikon D5500 is even more budget friendly, but sacrifices autofocus points and some physical controls.
While Pentax may not be one of the big two, they offer solid DSLRs at very competitive prices. The Pentax K-3 II has a 24 megapixel APS-C sensor and a wide ISO range up to 51,200. It's certainly fast enough to keep up with the needs of a new photojournalist, with an 8.3 fps burst mode and 1/8000 maximum shutter speed.
The camera doesn't make the professional—but choosing a camera is still something that deserves careful consideration. The best professional camera will fit your style, as well as the type of work you do. You don't necessarily need the most expensive camera to get started as a pro, though. There's plenty of more affordable options—and looking at an older version of the same camera is a good way to get what you need in your price range as well.
Want more great tips on starting out as a pro? Sign up to get updates delivered right to your inbox!
– SmartPHOTOeditors