Event photography is one of the trickiest aspects of starting a photography business. It takes a unique skillset and some really good preparation to pull off event photography. This guide is going to dive into detail and provide you with the best event photography tips!
When most people think of having to photograph an event, weddings are the first thing that comes to mind. But this photography style encompasses much more than just weddings. It encompasses any event where there is a large gathering of people. Even experienced photographers struggle with event photography because there is an overwhelming amount of issues to keep track of.
The Many Different Types of Event Photography
Now we're going to dive into the different types of events where photography is needed. More importantly, we'll look at the specifics for each type of event so that you can go into them prepared.
Wedding Photography
Let's start with the obvious choice and the most popular photography venue in the world. Weddings are a day that couples cherish for a long time, so it's no wonder they want the best photographer capturing those moments.

Challenges with Wedding Photography
Wedding photographers are expected to produce exceptional photos in a stressful environment.
Certain shots must be perfect the first time since they cannot be retaken. This includes vow exchanges, first kiss, and first dance moments.
Must be fully aware of what's going on around you.
Wedding photographers are expected to be discrete.
How Much do Wedding Photographers Make?
On average, a wedding photographer earns approximately $100 to $250 an hour, but this rate tends to fluctuate quite a bit.

Corporate Event Photography
This is where things get a bit more complicated because of corporate event photography branches out into a lot of different paths. Corporate events can be anything from an evening cocktail party to a corporate anniversary party. The demand placed on the photographer is not quite as stressful as wedding photography since there are less spontaneous moments, but it's important that the important shots are planned.
Corporate Photography Has a Highly Sporadic Pay Scale
Salaries can reach upwards of $117,000 per year. It's a pay scale that's highly in flux and depends on a number of factors. Obviously, more experienced photographers will reach the higher end of that scale. With that said, let's look at some more focused sub-categories of corporate photography.

Tips for Conference Photographer and Tradeshows
Conferences and tradeshows are a couple of powerful networking events for businesses, so they are always on the look for photographers to help show off these events by building their event photography portfolio. But as long as you plan ahead, there is not a whole lot of stress attached to photographing these events.
Challenges
Possibility of low lighting, but this can be avoided by making sure you bring flash to the event.
Photographs must be taken without disturbing the guests.
Capturing the perfect angles of both speakers and product prototypes without becoming a distraction.
Ensuring that you have the right camera and lens to capture the perfect shots.


Photography at Awards Presentations
It's essential that you plan out your photography shoot of an awards presentation in as much detail as possible. There are a lot of moving parts. As the photographer, you'll be expected to capture this essential moment without disrupting the ceremony.

Challenges
Planning out awards ceremonies can be a real pain in the neck! Make sure you get a copy of the schedule in advance to help.
With event photography, it's often a common courtesy to ask groups if you can photograph them before doing so.
Capturing the right angles can be a nightmare, so you will need to try getting as many angles as possible.


Event Photography at Product Launches and Brand Startups
Product and brand launches are important that businesses must get right. Businesses want these important milestones to be memorable, so they bring in a photographer to capture it. These pictures can be used as a promotional tool later down the road.

Challenges
Product launches are usually focused on displays, so it might be difficult to find the right lighting when taking pictures of people.
Capturing the magic of new products can be a bit tricky, so you will need to plan ahead to make sure you are grabbing shots of the product in action.
Product launches tend to be quite busy, so you will need to make sure you're prepared to take photos in a busy, crowded area.

Event Photography Techniques for Marketing Events and Press Meets
A marketing event or press meet presents an amazing opportunity that businesses can capitalize on for a long time. But in order to do so, they will need the event to be captured by a professional photographer.

Challenges
Photogenic moments are different depending on the business, which makes planning ahead more difficult.
These events are usually crowded and have a lot of moving parts.
Capturing abstract shots is important for this venue but can present a unique challenge.

Photography of Corporate Dinner and Business Parties
Parties present an amazing opportunity to grab some of the unique photos ever, but the process can be a bit tricky for a photographer.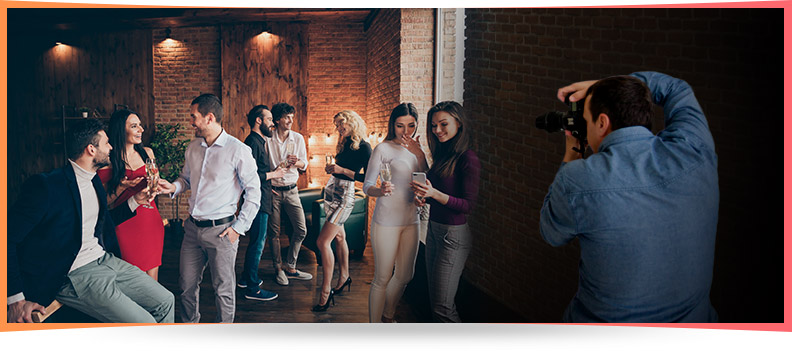 Challenges
Lighting can be an issue at parties, so you'll need to find the best lens and angles to make the most out of what's available.
Getting group pictures at a party or dinner is tricky, mostly because, as a photographer, you want your presence to be unnoticeable.
People's attitudes change when they realize there is a photographer in the room, making it more difficult to grab candid shots.

Commercial Photography for Outdoor Tours
Outdoor tours are one of the tools that businesses use to promote their products and services, so they present a unique opportunity for photos that can be used in their marketing campaigns.

Challenges
Weather can be unpredictable and requires photographers to be ready to improvise for the best shots.
Capturing the scene as it's perceived can be a challenge due to so many random elements.
A photographer's patience is tested with outdoor photography due to everything mentioned above.

College Event Photography Tips for Professional Event Photographer
College is a huge milestone in life, so people hire professional photographers for big events, like graduation. But there are several unique challenges to this venue that photographers will need to keep in mind as they are snapping their shots.

Challenges
Telling the story that the clients want can be challenging because they are not always clear about it.
Capturing the emotions of a milestone event can be a difficult hurdle, but it's necessary because photographers are paid to do just that!
Event photography requires the theme to be captures in the shots, so ensuring that the college is featured in each shot can be demanding.
Capturing exact moments that only happen once (like the hat toss at graduation) is essential but can also be quite stressful.
How Much do College Event Photographers Make?
While there are no pay scale numbers available specifically for college events, professional freelance photographers generally earn approximately $94 an hour.

Event Photography for Private Corporate Functions
Sometimes executives like to throw parties at their personal residence that are closed to the public, so in order to give an inside look, they hire a photographer to capture these events.

Challenges
Guests will behave differently if they realize a camera is pointed at them, so discretion is essential.
Lighting is usually lower in this type of setting, making it more difficult to get the best shots.
How Much do Party Event Photographers Make?
Like other types of professional event photographers, private event photographers earn $175 an hour.

9 Tips to Deliver Amazing Event Photographs
Here are some tips to help you deliver the most amazing event photograph sessions and impress your clients!
Preparation for the shoot Always plans a photoshoot in advance. Create timelines and factor in everything possible. It's always important to align the event timelines to your shoot plans before the shoot based on the uncontrolled factors (example – weather, the objective of the shoot, etc.).
Having the right gear and settings Make sure you have the right equipment for the specific type of event. For example, your tool bag should be customized with the right camera, lenses, and other gadgets needed based on the type of shoot – interior, exterior, light conditions, etc.
Pre-event shoot Set up and start early to take some pre-event photos that will tell the before and after story of the event.
Checklist of key shots Create a checklist of important shots and make sure you plan and capture them.
Don't overshoot or undershoot While you need to make sure you try your best not to take too many shots, it's always better to overshoot than it is to undershoot.
Have backup gadgets for a bad day Bring backup batteries and lens just in case.
Shoot in RAW format for great quality Shoot your photos in RAW format so that you have the best quality to work with.
Editing and photo post-processing Edit all photos that you send to the client for consistency.
Partnering with an experienced image editing company Consider partnering with an experienced image editing provider to truly impress your clients.
Let Smart Photo Editors Handle All of Your Post Processing Needs
Smart Photo Editors (SPE) has helped thousands of clients transform their high-quality photos into digital masterpieces. Our team of professional photo editors with editing capability in powerful programs like Lightroom and Photoshop, ensuring they have the skills to transform your event photography images into truly impressive works of art! Want to make use of our photo manipulation, 360 panorama, and other image editing services, contact us today.

– Smart Photo Editors