Like many businesses, online furniture stores depend on photographs to convey a quality image and sell the product. Traditional photography is not always the best way to get the job done — for example, photo manipulation has a special role in both increasing sales and reducing marketing costs within the furniture industry. IKEA, the world's largest furniture retailer, revealed in 2014 that 75 percent of their catalog images are produced with computerized photo manipulation.
The Advantages of Furniture Photo Manipulation
There are at least four major advantages of using photo manipulation in your marketing efforts:
Improving the Bottom Line — saving money while improving quality.
Increasing Productivity — enhances both branding and online marketing strategy.
Offering More Choices to Customers — helping customers find the right combination to buy.
Bridging the Image Quality Gap — changing "what is" to "what you want it to look like."
IKEA: A World-Leading Example
It is always instructive to pay attention to industry leaders like IKEA — emulating the most successful furniture retailing company in the world can provide helpful lessons for businesses of all sizes. IKEA discovered that catalog viewers could not typically tell the difference between unaltered photographs and manipulated images. Only 25 percent of furniture images used by IKEA in their marketing efforts are the original, untouched image. The result? Using computer-generated images, IKEA keeps customers coming back for more — 9.7 million e-catalog downloads and over a billion website visits. The unmistakable lesson: image manipulation works for IKEA.
Ikea's Photo Strategy Timeline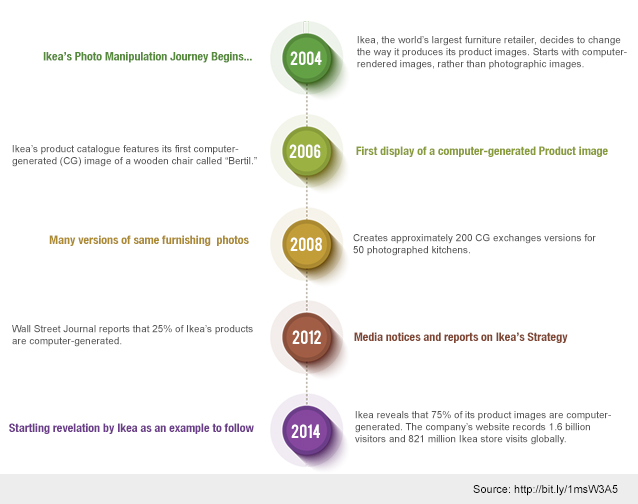 What Can You Do to Reduce Marketing Costs?
For most businesses, improving the bottom line for marketing programs requires two-fold results — increase sales and reduce expenses. As demonstrated by IKEA's impressive results, photo manipulation can help you achieve both goals. Here are 10 practical ways that image manipulation can reduce furniture marketing costs:
Adding textures
Obtaining 3D visualizations
Resizing or compressing images to permit use in different locations
Adding watermarks for copyright protection
Removing blemishes and adding photogenic qualities
Enhancing colors and artificially adjusting for inadequate lighting
Converting to a painting or sketch appearance
Removing distractions from nature shots
Adding absent people to group photos
Isolating products for advertising emphasis
For example, "Virtual Staging" can provide 3D furniture renderings and simulation of space planning for potential home buyers. With vacant real estate, it is usually difficult for buyers to visualize what a property would look like with furnishings. Other buyers have difficulty seeing past unattractive furniture arrangements. SmartPHOTOeditors can help your customers make the mental leap from empty or unappealing rooms to a designer home through the virtual magic of 3D rendering technology. With a professional touch built upon photo manipulation, virtual walkthroughs can be more effective in closing a sale than a physical walkthrough.
Manipulation vs. Traditional Photography
Just as the world no longer relies on the Betamax video cassette format to record and display video entertainment, contemporary video editing technology has made some traditional photographic techniques obsolete. Even for photographers and videographers that prefer "real or traditional" versus "manipulation" of images, the final test remains unavoidable — what do customers want?
SmartPHOTOeditors can show you how to reduce your marketing costs while producing images that sell your product and services more effectively.
– SmartPHOTOeditors