Car image clipping allows you to transform your viewer back to their youth and vitality. One look at your car photo can set the mood for sales, create luxurious value, and showcase the cars details. .
Set the Mood with Your Car Photo
Buying a car involves more than picking one that works; it involves bringing the buyers emotions into play. Remember how the sight of a certain cars, such as a '69 cherry red mustang convertible, conjures up images of being cool and the thrill of driving down the street having every one stare at you in envy. Create this mood in your buyer.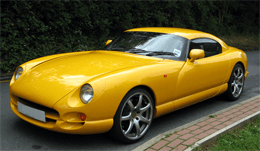 Pick a shot that shows the car in the right environment, like a sports car on a windy road or a convertible on a sunny day. If the proper shot is not available, use editing software to trim the car from the picture and drop it into the background of your choice.
The Right Automobile Image Creates Luxury
Everyone may need a vehicle, but which one they choose is a desire. Create the need for luxury as you place your car image against the proper background.  One set against a stormy sky or next to several other vehicles portrays a different feeling than one set against a manicured lawn, in front of a five-star resort or one with a chauffeur opening the door for an elegantly dressed woman. Portray the feeling of luxury in your car as you zoom into the leathered exterior and showcase the small details that luxury conveys. Shoot a picture of a manicured hand running her fingers over the supple leather seats or turning a dial on the dashboard.
With an existing photograph use car image clipping to get the desired effect as it allows you to trim the image, change the background and produce a photograph that enhances your vehicle.
See the Details in Your Automobile Photograph
Proportion is a key component in photographs when selling a car online. A bright red vehicle may grab a buyer's attention, but if the car is too far away to see the details or takes too long to load, the buyer may click to the next car photo. Car image clipping can change both size of the car and zoom in on the details. By cropping a picture to focus on the car and eliminating portions of the scene, the car becomes larger in the photograph. A larger photograph allows the fiery yellow flames of a custom paint job or the wood trim of a vehicle to be seen by the buyer.
Car Image Clipping: One Tool That Sells Your Car
Bringing out the assets of your automobile in online photography is key to selling your car. When you are unable to produce the perfect photo with your shot, then use car image clipping software or services to create a desire for your product.
– Photo Wizard