Color grading is a fantastic way to elevate your portrait photography, and if done correctly, can drastically impact an image's final appeal. By having a good color grading, your image can be 'brought to life,' in a way that an unedited image will never be able to portray. Without proper color grading, your colors may be too flat, and your photo could end up look quite amateurish, when in fact you are an experienced photographer.
What Is Color Grading?
Color grading can change the visual tone of an image, completely altering its aesthetic. To clarify, there is a big difference between color grading and color correction. Generally, color correction is simply correcting aspects of an image to make it more appealing, such as making adjustments in white balance, contrast, exposure, highlight, and noise.
For color grading, the process of developing creative portraits involves adjustments in curves, hue, and saturation, solid color fill, and levels.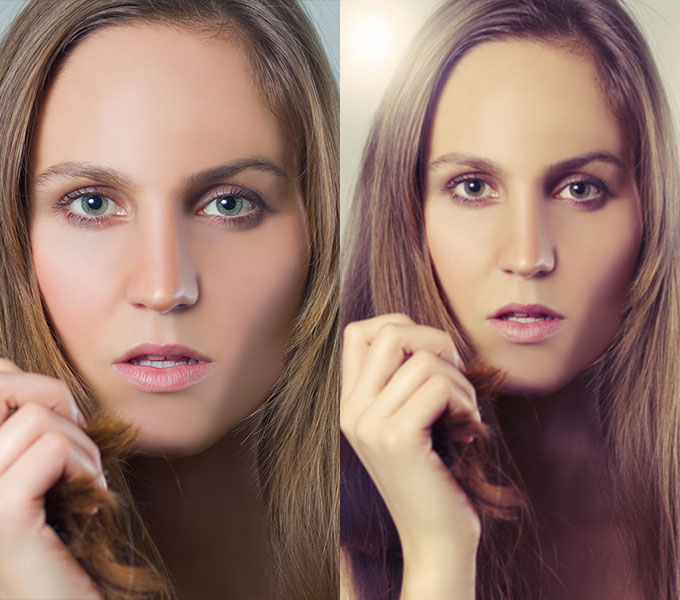 Color grading techniques will usually build on top of a color corrected image to change the color of a scene to communicate a certain mood. When it comes to color grading, there is no right or wrong – the process is dependent on personal preference.
For example, if your shot was a beach scene, you might change the blue hue of the ocean via a color grade to give the image a better tropical feeling. Color grading is far less about right or wrong but more about personal artistic intent.
In the past, color grading was done with chemicals in a photo laboratory or darkroom. However, we have come a long way since then, and the process for grading color in photographs is a lot easier. Software suites like Photoshop and LightRoom allow you to easily add depth, vibrancy, temperature, and many other elements to basic photographs.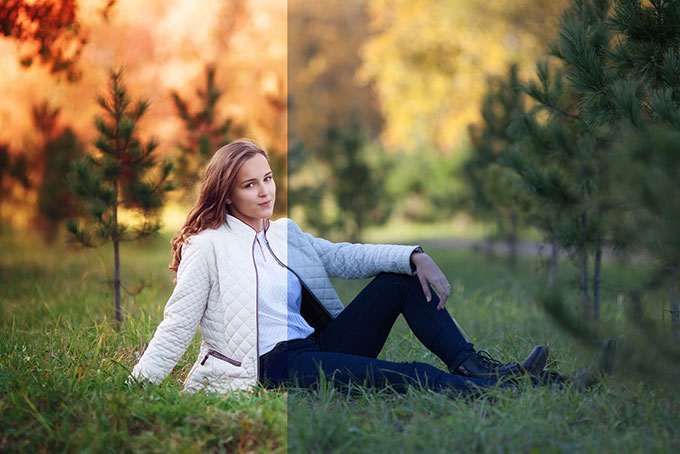 Color Correction vs. Color Grading
Color correction is a process that involves making adjustments to an image to "correct" any deviations from its standard appearance. These corrections include Exposure, White Balance, ISO Noise, and Contrast.
Color correction can fix mistakes made with camera settings, as well as to pull more information from underexposed images. You should color correct your footage whenever possible, as it creates cohesion between shots.
Color Grading, on the other hand, can change the visual tone of an entire image. Once your footage is corrected, you can work to change the aesthetics, by shot matching, removing objects, shape masks, and cinematic looks.
How Color Grading Improves Images
Color grading gives a better first impression: The majority of images are first seen on social networks or in small thumbnails in galleries. Color grading can help you to stand out in a sea of imagery.
Color grading sets a mood: As a photographer becomes more skilled at grading, he or she can use the power of color tones to convey an emotional tone within a scene. Grading at this level can transform an unexciting frame into magic.
Color grading helps you build your brand: By creating a visual style that viewers can recognize at a glance can be tremendously impactful in the growth of a photographer's career.
Using Color Grading for Better Portrait Photography
For all your color grading needs, Lightroom, or Photoshop is your go-to software platform. There are tons of video tutorials from other experts on these two editing platforms, which is why they are our recommendation to most photographers. Lightroom is a lot more user-friendly than photoshop, but photoshop is a lot more powerful than Lightroom.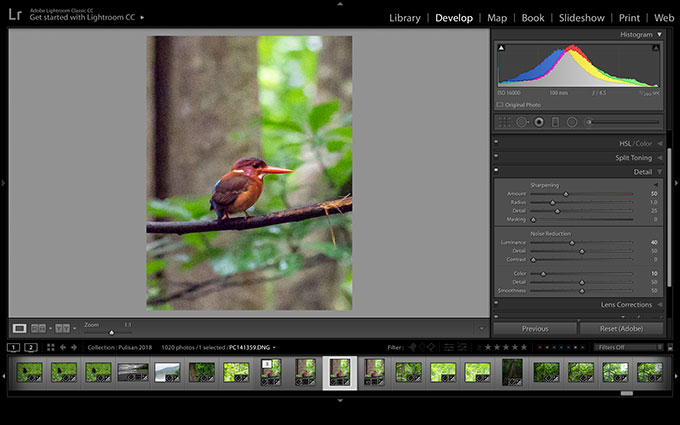 Let's say you go with Adobe's Photoshop. The first thing you would need to do is create a balance adjustment layer by pulling up either the greens or blues in the image. Then deselect any areas that you don't want to darken by either using color range and painting or channels. Select the red channel, bring up a selection of highlights using command + click. Create another color balance layer and increase the yellows and reds in the image. Invert the layer, so it only shows highlights on skin and hair.
If you want to tone down the color grading, create a blank layer set to blending mode: color based on the skin color of the individual in the portrait. Invert that layer to get a direct opposite of your subject's skin tone and then use the blend to ensure it only shows up on the subject's skin. There are dozens of different ways of color grading portraits, and experimentation is the key.
Top Color Grading Tips from Smart Photo Editors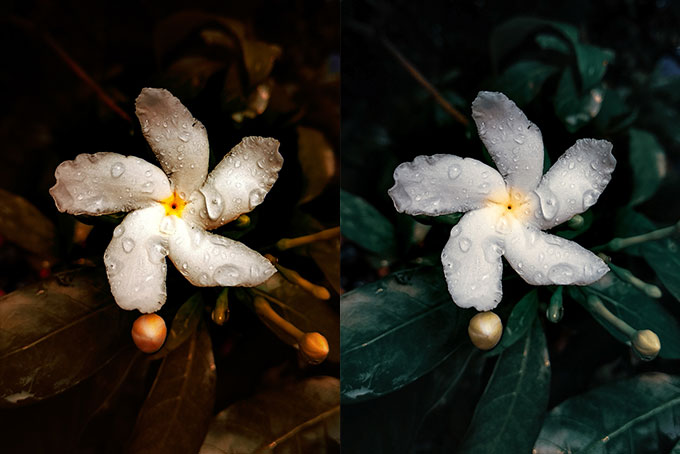 Tip 1: Using Lightroom

ReUsing Lightroom correct the white balance, exposure, contrast, shadows, highlights, whites, and blacks of your photo. Changing the white balance will make your photo cooler or warmer. You need to decide what effect you want before working on it.

Tip 2: Using Photoshop

To create a natural or warm effect, something close to skin tone, this is what you can do in Photoshop: Adjust hue/saturation by bringing the slider to the left slightly. Work on your levels by bringing down the blue channel. Be sure that your black bottom slider is all the way to the right. If you see some blues in the shadows of your photo, you are doing it right. To finish this step, bring the white slider to the left, just enough to create a warm effect in your highlights.

Tip 3: Saturation to Keep in Mind

When working with saturation on either software, experiment with the look, especially if you're working on your subject's skin, being mindful not to over-saturate or under-saturate the image.
Bring Your Photos to Life with Color Grading
If you aren't applying any color grading techniques to your portrait photography, you are potentially missing a vital part of the process of finalizing your image. Color grading has the potential to elevate a good image to great, or a great image to outstanding. If you need to speak to a specialist to color grade your imagery, the experts at Smart Photo Editors have spent years perfecting the art of conjuring up certain looks and feelings for portrait photography using color grading. We'd be happy to help you transform your images with color grading today.
– Smart Photo Editors
Disclaimer:All the product names, logos, trademarks, and brand names are the property of their respective owners. All the products, services, and organization names mentioned in this page are for identification purpose only and do not imply endorsement.